---
This is truly a chocolate lover's delight, French Silk Pie. It has chocolate, butter, and real whipped cream in a no-bake custard that is, in a word, decadent!
But so delicious! Enjoy!!
---
Ingredients
4 ounces good-quality bittersweet chocolate
1/4 teaspoon espresso powder (optional)
1 cup cold heavy cream
1 1/2 sticks unsalted butter (6 ounces), at room temperature
1 cup granulated sugar
1 teaspoon vanilla extract
3 large eggs
1 (9-inch) pie crust, baked and cooled
---
Directions
For the Crust:
Prepare pastry for a single crust pie and form a decorative shell. Blind-bake a pie shell at 375 degrees F for 15 minutes or until golden brown.
(Find instructions on blind-baking, see our Blind-Baking recipe page).
Allow the pie shell to cool before adding the filling.
For the Filling:
 Melt the chocolate in a microwave on medium power or on the stovetop over medium-low heat.
Whisk in the espresso powder, if using, and set aside to cool to room temperature, about 20 minutes.
Whip the cream in a medium bowl with an electric mixer on high speed until stiff peaks form.
Place the butter in the bowl of a stand mixer fitted with a paddle attachment. (Alternatively, use an electric hand mixer and large bowl.) Beat
on medium speed for 1 minute.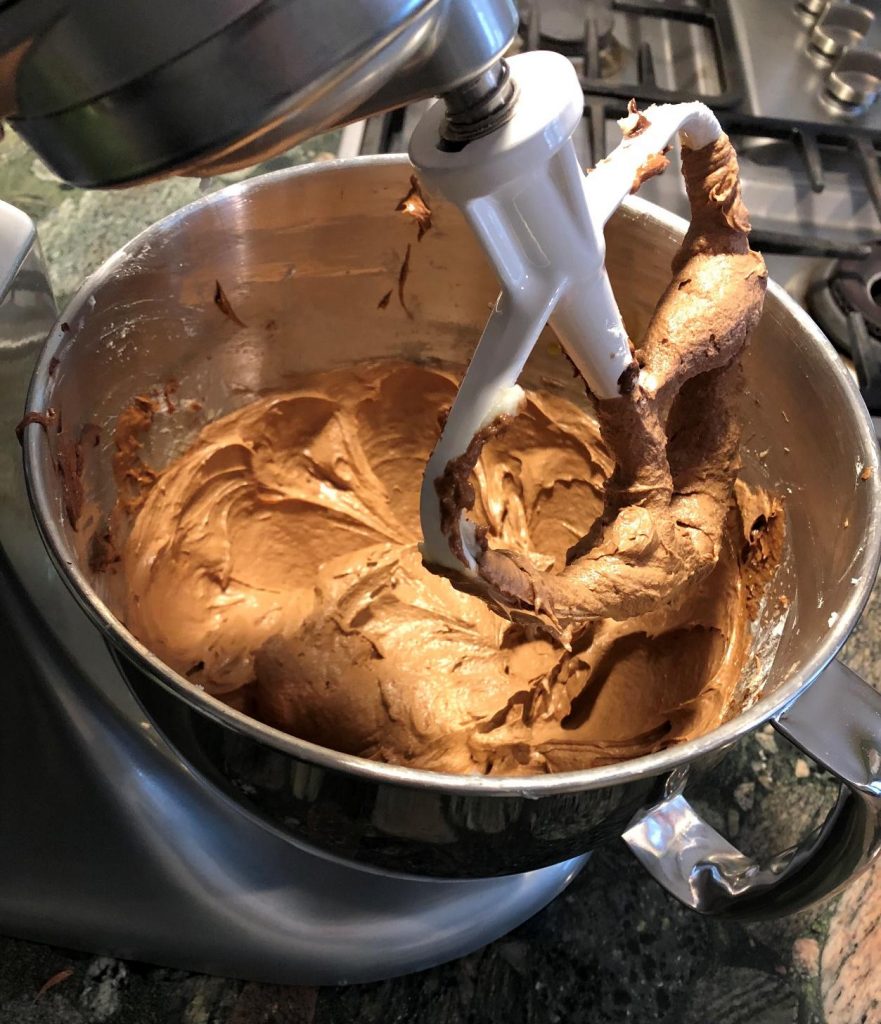 Add the sugar and continue beating until light and fluffy, 3 to 5 minutes more.
Add the vanilla and cooled chocolate and beat until incorporated, about 1 minute.
 Add 2 of the eggs and beat on medium speed for 3 minutes.
Add the remaining egg and beat until the mixture is silky and smooth, about 3 minutes more.
 Add the whipped cream to the chocolate filling and fold with a spatula by hand until no visible white streaks remain.
Transfer the filling to the prepared pie crust and smooth it into an even layer. Refrigerate for a minimum of 2 hours, but preferably overnight.
Decorate the pie with freshly whipped cream or chocolate shavings if desired.
Chill and serve!
Notes: Recipe adapted from Shugary Sweets
And if you absolutely love chocolate, check out our Chocolate Ganache Pie recipe
Check out these Kitchen Tools and Gadgets by JAZ Innovations to make baking easier and more fun!
For protection against accidental oven burns, get our Oven Rack Guards – Oven Rack Guard® Burn Protection
Our Splatter Guard can help protect against burns from splattering grease – Splatter Guard Pro™
For the perfect pie crust (and for blind-baking!) – Perfect Crust Pie™ Weight Chain
To roll a perfect pie crust – Perfect Crust™ Pie Mat
To protect against burns from hot lids on pots – Cool Touch™ Lid Handle Covers
For precise kitchen ingredient measuring that's easy & fast – Perfect Measure™ Measuring Cups
Save money by preserving your produce the natural way with our Produce Saver – Guard/N Fresh™ Produce Saver