---
It's fall, and ripe, fall fruit makes the best pies! So here's my recipe for Fall Fruit Pie
---
Ingredients
Prepare your favorite pastry for a single crust pie

Filling

½ cup butter, (1 stick)

3 Granny Smith apples

2 Golden Delicious apples

2 D'Anjou pears slightly hard

6 ounces fresh or frozen cranberries

1 cup brown sugar

¼ cup all-purpose flour

Topping

6 tablespoons butter, softened

¾ cup all-purpose flour

½ cup brown sugar

1 teaspoon ground cinnamon
---
Directions
Prepare pastry for a one-crust pie. Form a pie shell with a decorative crust.
Prepare the filling:
Place the butter in a heavy-bottomed Dutch oven and melt over medium heat.
Peel and core the apples and pears and slice into ¼ inch slices and add to the butter.
Add the cranberries to the apples and pears.
Add both sugars and flour and stir to combine.
Cover and simmer gently for 5 minutes.
Remove cover and stir gently and cook for 5 more minutes, being careful that the mixture does not stick to the bottom. The mixture should be thick and creamy and the fruit still a bit hard.
Allow to cool.
Pour the cooled fruit mixture into the prepared pie dish.
Prepare the crumb topping:
Mix the softened butter, flour, brown sugar, brown sugar, and cinnamon in a bowl.
Spread evenly over the top of the filling.
Pre-heat oven to 375 degrees. Bake until the crust is golden brown, and the filling is bubbling.
Cool before serving.
There you have it…a perfect pie using seasonal fruit that the entire family will enjoy!
(Recipe adapted from A Family Feast)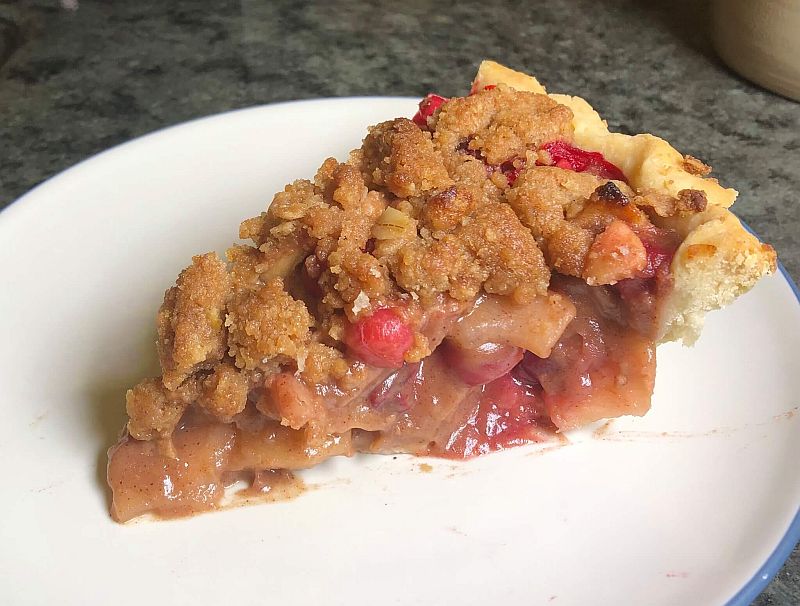 Check out these Kitchen Tools and Gadgets by JAZ Innovations to make baking easier and more fun!
For protection against accidental oven burns – Oven Rack Guard® Burn Protection
To protect against burns from splattering grease – Splatter Guard Pro™
For the perfect pie crust (and for blind-baking!) – Perfect Crust Pie™ Weight Chain
To roll a perfect pie crust – Perfect Crust™ Pie Mat
To protect against burns from hot lids on pots – Cool Touch™ Lid Handle Covers
For precise kitchen ingredient measuring that's easy & fast – Perfect Measure™ Measuring Cups
Save money by preserving your produce the natural way – Guard/N Fresh™ Produce Saver