---
A fun
pie for fall
filled with the flavors of the Fall season– apple and cinnamon. This is a great alternative to Pumpkin Pie if you're looking for something different to serve with a meal or it can make a nice change for any parties or events you may have for this time of year. And if you want to reduce some of the calories and make it less sweet, you can just leave out the sugar.
It's best if you use a highly spiced
apple butter
, either homemade or a commercial one like Musselman's. Enjoy!
---
Ingredients
Pastry for a 9-inch pie crust
1/2 cup apple butter
2 large eggs
1/2 cup sugar
1 tablespoons cornstarch
1 teaspoon cinnamon
2 cups whole milk
4 ounces cream cheese (softened)
---
Directions
Beat eggs in a medium-size bowl.
Add cream cheese mix. Add the sugar, cornstarch, cinnamon, vanilla and apple butter. Mix well.
Add milk and whisk together.
Transfer the pastry into a 9″ pie plate and form a decorative edge.
Pour the filling into the unbaked pie crust.
Bake at 375 for 60-65 minutes, or until the center is set. It will still seem slightly "jiggly" in the very center, but a knife put in the center should come out nearly clean.
Cool in the pie plate on a wire rack. Do not slice into the pie right away, as it will continue to set as it sits.
Store the pie in the refrigerator once it is cooled.
Note: this recipe was adapted from Tastes of Lizzy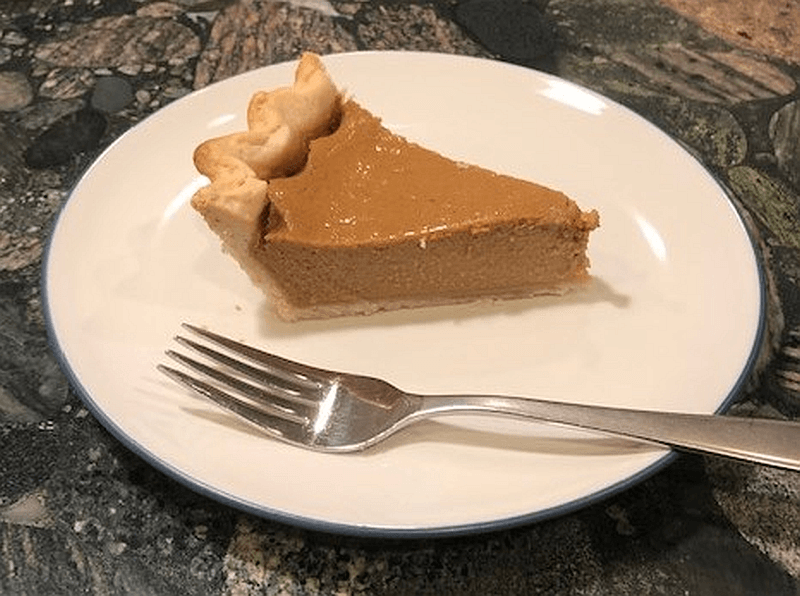 Check out these Kitchen Tools and Gadgets by JAZ Innovations to make baking easier and more fun!
For protection against accidental oven burns – Oven Rack Guard® Burn Protection
To protect against burns from splattering grease – Splatter Guard Pro™
For the perfect pie crust (and for blind-baking!) – Perfect Crust Pie™ Weight Chain
To roll a perfect pie crust – Perfect Crust™ Pie Mat
To protect against burns from hot lids on pots – Cool Touch™ Lid Handle Covers
For precise kitchen ingredient measuring that's easy & fast – Perfect Measure™ Measuring Cups
Save money by preserving your produce the natural way – Guard/N Fresh™ Produce Saver