---
Crumble, Crisp or Cobbler: What's the difference?
The answer isn't a matter of clear definitions as it is looking at the history of how these types of desserts were used and changed over time.
The term Cobbler seems to have been around the longest and was used to describe a type of pie made of thick dough that was used to hold fruits (usually apples or peaches).
Eventually, Cobbler was used to describe a pastry made with a biscuit topping or cake batter. The fruits used were those that were firmer so they could hold a firm consistency as they cooked.
Then the toppings used became the point of difference. The Oxford English Dictionary defined a crisp as "a type of dessert consisting of fruit baked with a crumble topping." Well, that's confusing!
In 1924 Good Housekeeping wrote about apple crisps as being a type of dessert that can be cooked in the oven as all the other parts of the meal. And then a recipe was written that defined a crisp as a pastry made with butter, sugar and flour or oatmeal. The use of oatmeal probably originated as means of necessity during World War II (especially in England) when shortages of food ingredients were common, causing resourceful cooks to come up with creative solutions in order to continue to put desserts on the family dinner table.
Leave it to the ingenuity of family cooks to make do with the resources available and adopt different uses of ingredients of whatever was available.
So, you can say that Crumbles, Crisps and Cobblers are the results of evolving cooking skills and not so much trying to create different desserts just for the sake of calling each by different names. In fact, in many parts of the world today, "crisp" and "crumble" are often used interchangeably.
If you're still confused about the difference between Crumble, Crisps and Cobblers, you probably aren't alone. One thing people can agree on is that whatever the name, they do taste great. And with that, let's start the baking!
Here's a recipe for a simple fruit crumble that's quick and easy to make and has many of the same features as the fruit pies I make: homemade fruit filling and crumble topping. Try this, and then when you're ready, add the
pie crust
for a great dessert experience!
---
Ingredients
For the Filling:
3 cups strawberries, sliced
1 cup blueberries
¾ cup sugar
¼ cup quick tapioca
1 tsp lemon zest
¼ cup lemon juice
½ tsp Allspice (optional)
For the Crumble Topping:
½ cup flour
½ cup brown sugar
¼ cup quick oats
1/3 cup butter
---
Directions
For Filling:
Mix fruit with lemon zest and lemon juice
Mix tapioca and sugar together (spices also, if using)
Stir fruit mixture with tapioca/sugar mixture until well coated
Let stand for 20-30 minutes to let tapioca soften
Using a food processor, blend brown sugar and flour
Add butter and oats and process until "chunky"
Add fruit mixture to a well-buttered baking dish.
Cover generously with crumble mixture.
Bake at 375 degrees for 40-50 minutes until the crumble is brown and the fruit is bubbling.
Cool and serve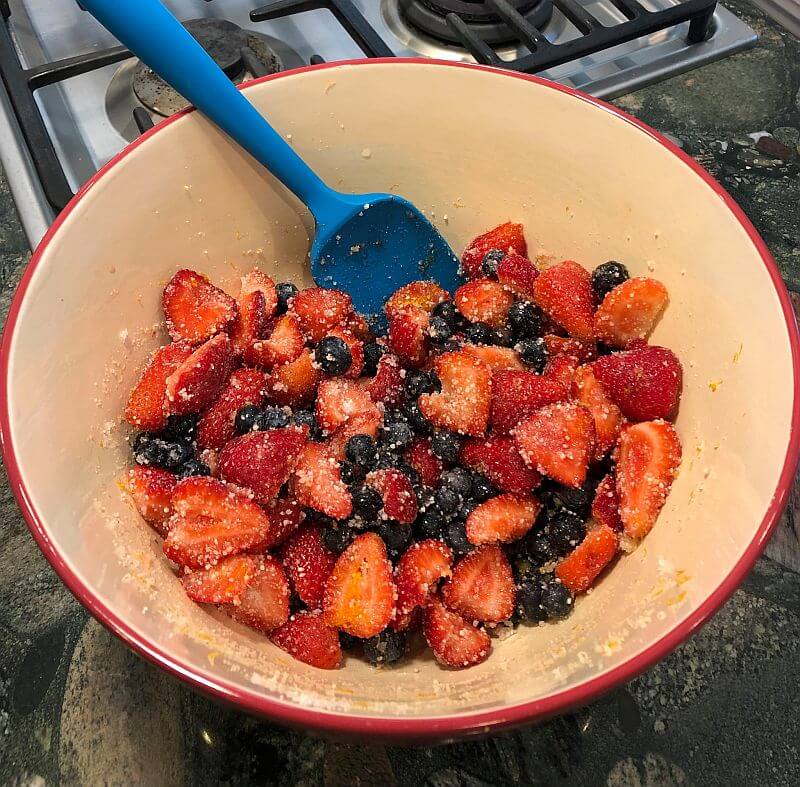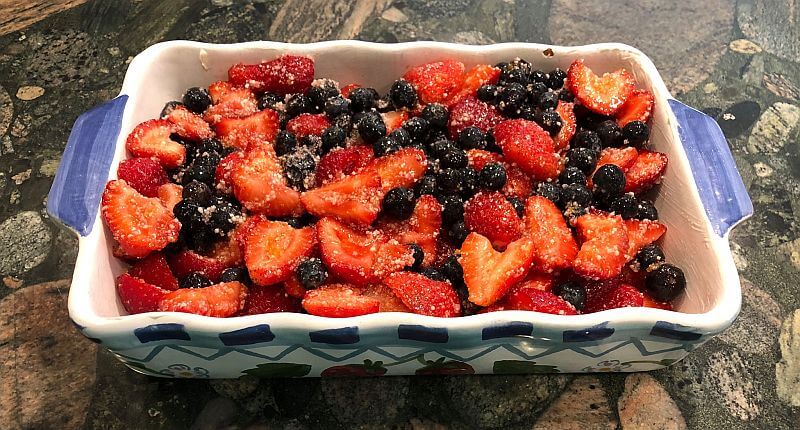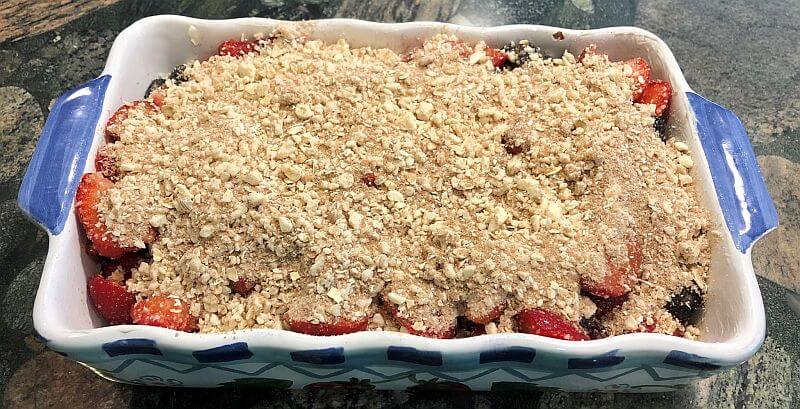 Check out these Kitchen Tools and Gadgets by JAZ Innovations to make baking easier and more fun!
For protection against accidental oven burns – Oven Rack Guard® Burn Protection
To protect against burns from splattering grease – Splatter Guard Pro™
For the perfect pie crust (and for blind-baking!) – Perfect Crust Pie™ Weight Chain
To roll a perfect pie crust – Perfect Crust™ Pie Mat
To protect against burns from hot lids on pots – Cool Touch™ Lid Handle Covers
For precise kitchen ingredient measuring that's easy & fast – Perfect Measure™ Measuring Cups
Save money by preserving your produce the natural way – Guard/N Fresh™ Produce Saver