---
Here's a colorful, fun pie for the summer season, or if you really love blueberries…any time of the year!
You start with fresh blueberries that are cooked stove-top to make a 
compote
. This is blended with a custard (also homemade) and then folded into beaten egg whites and fresh whipped cream to create a lovely blue chiffon. You can dress it up with fresh whipped cream and a strawberry to create a red-white-and-blue treat for the 4th of July holiday! Let's get started!
---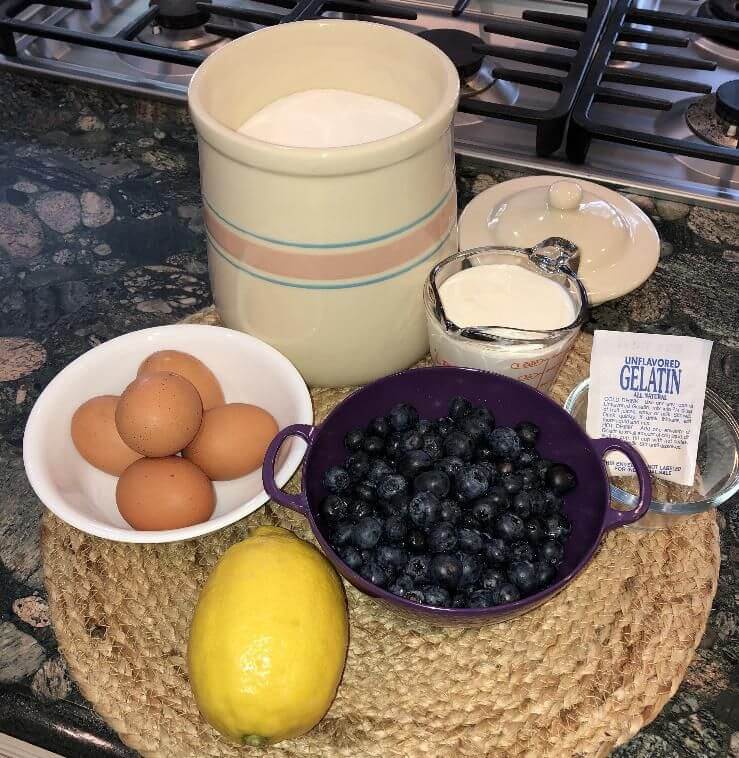 Ingredients
2 cups of fresh blueberries
½ cup Sugar
5 egg yolks
Grated zest of 1 lemon
2 tablespoons lemon juice
1 packet plain gelatin, dissolved in 1/4 cup warm water
2/3 cup heavy cream
6 egg whites
Pinch kosher salt
---
Directions
For the crust:
Make pie dough for single-crust pie
Cover the bottom with Beaded Pie Weight Chain to prevent bubbling.
Blind-bake at 375 degrees F for 20 minutes until golden brown.
Remove pie weight chain and allow to cool before adding chiffon.
For the Blueberry Chiffon filling:
Prepare single-crust pie, as described above.
 In a small saucepan, combine blueberries and 1/3 cup sugar. Place over medium heat and cook at a rapid simmer until berries wilt and juices thicken (about 15 minutes).
Let cool. It should resemble a loose jam.

 In a pan, whisk together egg yolks, lemon zest, lemon juice, and 2 tablespoons of sugar.

Cook over low heat until mixture coats back of a spoon, 2 to 4 minutes.
Remove from heat and stir in gelatin. While it cools, whip cream until it holds stiff peaks.
Separately, whip egg whites and pinch of salt until foamy, then gradually beat in 1/4 cup sugar until whites hold a stiff peak.
 Fold cooled gelatin mixture into beaten egg whites.
Then fold in the whipped cream, followed by blueberries.

Mix gently until smooth.
Pour into pie shell and chill for at least 3 hours before serving.

Garnish as desired with strawberries and whipped cream.
There you have it: Blueberry Chiffon Pie – an elegant Summertime classic!
(Recipe adapted from the New York Times Dining.)
---
Check out these Kitchen Tools and Gadgets by JAZ Innovations to make baking easier and more fun!
Oven Rack Guard® Burn Protection
Perfect Crust Pie™ Weight Chain
Perfect Measure™ Measuring Cups