The Perfect Crust™ Pie Weight Chain
The Secret To Perfect Pies Is A Perfect Pie Crust
Do you love to bake pies, but your pie crust never seems to turn out just right – always uneven and soggy (especially for pies with a recipe calling for filling)? Well, there's a reason for that and fortunately, a simple solution!
Experienced pie bakers know that the secret to a perfect pie is a perfect, flakey pie crust. But that's easier said than done!
Blind Baking the pie shell (or pie crust) is simply baking the crust without the filling inside! When you are baking a pie with any type of filling that does not need to be cooked, you have to bake the crust by itself first. This is called, "Blind Baking". (And blind baking is also used for most torts as well!)
If you don't blind bake when baking these types of pies and pastries, the bottom of the crust will be soggy with air pockets and air bubbles and you'll end up with an unbaked crust!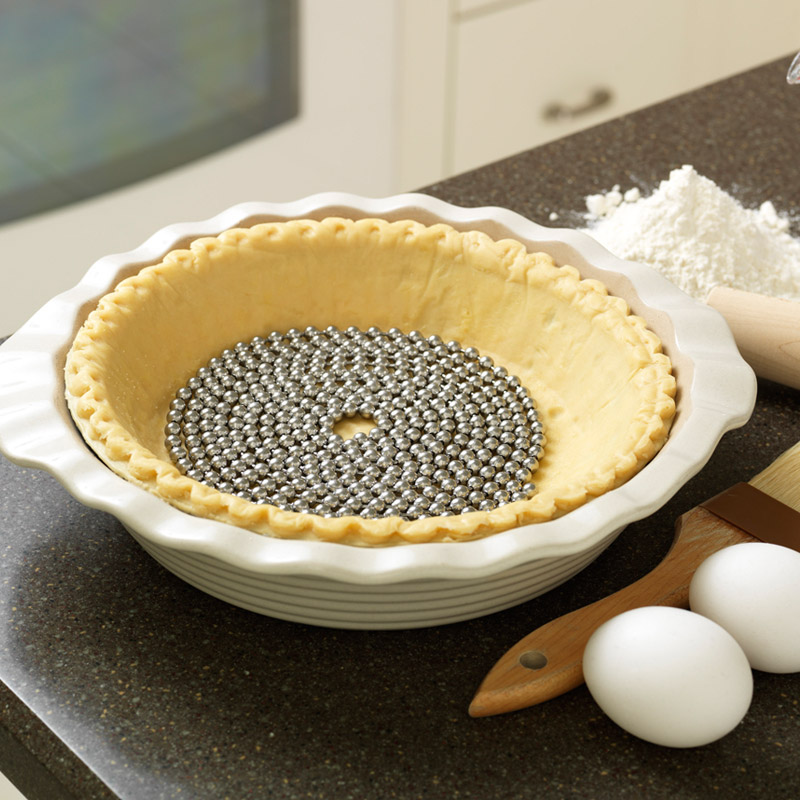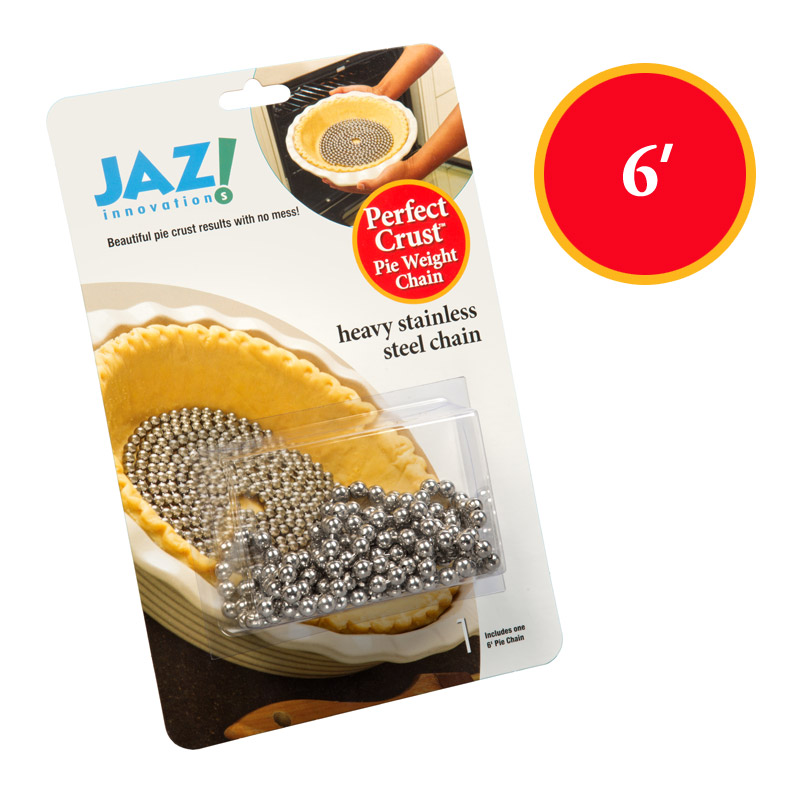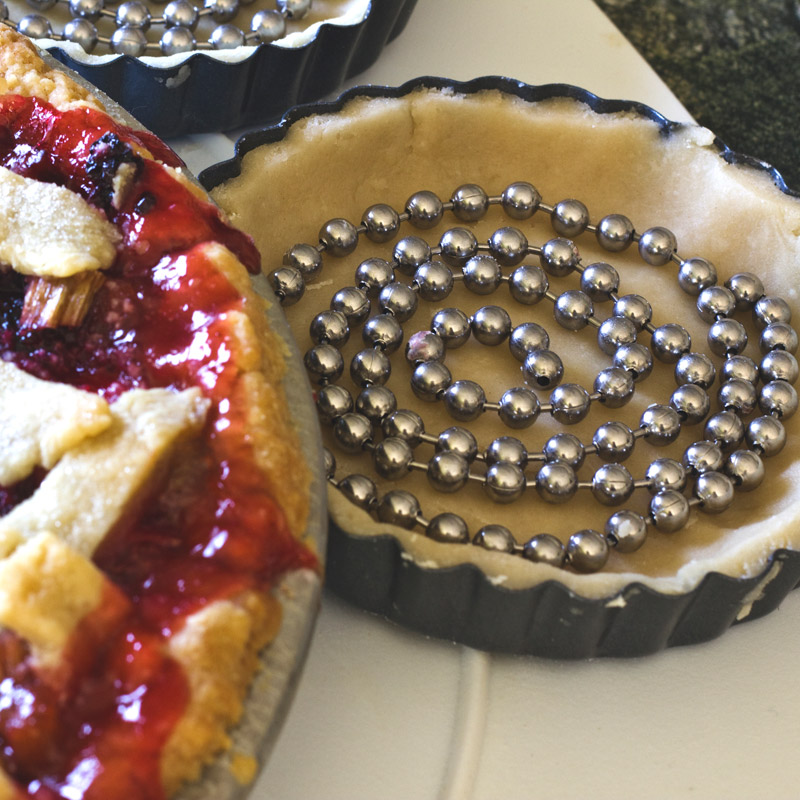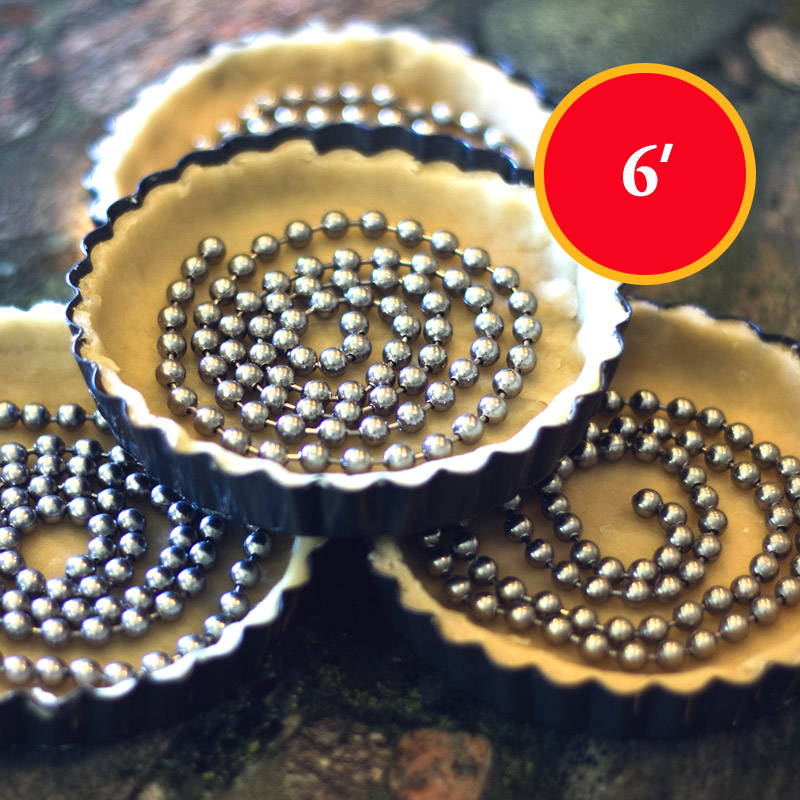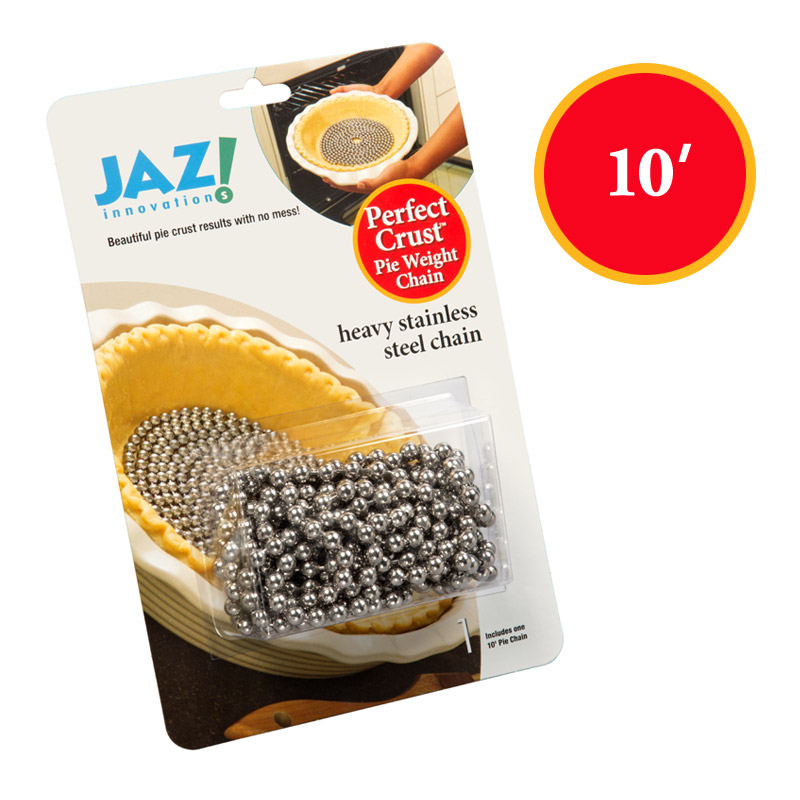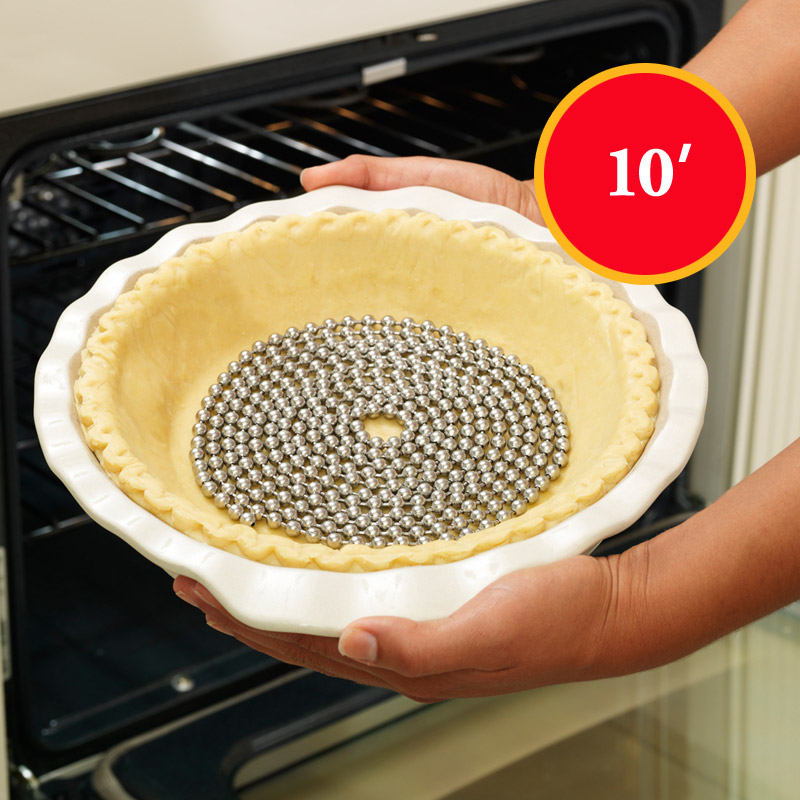 When You Blind Bake, You Need To Do This
But when blind baking a crust, there's one important factor to take into account: if you just bake the pie crust all by itself, the bottom crust of the pie shell will bubble and crack. And no one wants that!
But, there is an easy way to solve this problem: 
You have to weigh the bottom of the pie shell down to keep it flat! And that's why we invented the "Perfect Crust™ Pie Weight Chain" from JAZ Innovations!
What Are Pie Weight Chains?
Pie weight chains are often referred to by other names such as:
Pie weights

Metal pie weights

Baking beads

Pastry beads or just simply, Pie Chains.
Pie Chains Are The Secret To Blind Bake Pie Crusts - with no mess!
The Perfect Crust™ Pie Weight Chains by JAZ Innovations produce a perfect pie crust with minimum effort and no mess. Our pie weights are available in a standard 6-foot length or the "Professional" 10-foot length, for even better crust coverage & results. Both sizes of pie weight chains are made from heavy, 100% stainless steel that lets you bake perfect, flat pie crusts every time! Easy to clean and use, our Perfect Crust Pie Weight Chains will prove a perfect addition to your kitchen!
Our Solution: We Created The Ideal Pie Chain Weights
Made of heavy-duty stainless steel for long-lasting quality.

They ensure an even distribution of weight, resulting in a perfectly flat and delicious crust.

Oven heat transfers to all areas of the bottom of the crust.

They're easy to clean and store, so you can use them again and again.

No more mess, no more wasted pie shells and no more frustration!

Great for 8, 9 and 10-inch frozen and homemade pie crusts! Ideal for Banana, Chocolate, Lemon Chiffon, Lemon Meringue, Lemon Pie and others!
The Better Pie Weight Chain
Make no mistake, there is a difference in quality! Perfect Crust™ Pie Weight Chain by JAZ Innovations has the uncompromising quality to help you bake the perfect pie!
100% stainless steel beads

Produces flat, ready to fill pie crusts

Removes easily after baking

Dishwasher safe
A Quality Product To Add To Your Kitchen Tools
Since I started using your Perfect Crust™ Pie Weight Chain, I've noticed my prep and clean-up times are shorter and my crusts come out better. I also like just popping the pie chain in the dishwasher when I'm done. I've given a few to my friends, too."
See how we use the Perfect Crust™ Pie Weight Chain to bake this delicious Lemon Meringue Pie!