For the perfect crust every time!
Nothing beats the taste of a home-baked pie. But what stops most people from baking their own pies is the crust.
"How do I roll it?"
"Will it be too thick and chewy?"
"Will it be too thin and tear?"
"Will it crack and fall apart while I'm putting it in the pan?"
No wonder so many people choose terrible store-bought frozen pies! Now you can roll a perfect pie crust with the Perfect Crust™ Pie Mat from Jazz Innovations.
A Premium, Silicone Baking Mat With Added Features That Makes Rolling Pie Dough Easy
The secret to our pie mat is its patented circular ring with a raised edge. The raised edge acts like a thickness guide to let you roll the pie dough evenly. Never too thick or too thin.
Then the circular ring trims the crust automatically to the perfect size circle for a 9-inch pie.
Transferring your pie dough from the counter to the pie pan used to be a tricky business. The dough would stick to the counter and could crack and break and sit unevenly in the pan. But with the Perfect Crust™ Pie Mat, it's just "One, two and flip!
The Perfect Crust™ Pie Mat has a non-stick surface that makes baking pies easy! It's made from premium, platinum-cured silicone. It has a non-stick surface and is dishwasher safe and rolls or folds to store in your cabinet or kitchen drawer.
Home-baked pies made simple with the Perfect Crust™ Pie Mat from Jazz Innovations.
(You may also find us if you're looking for: silicone baking mat, silicone pastry mat, dough mat, or nonstick pastry mats.)
A Better Pie Mat For Perfect Pies & Pastry
Built-in Thickness Guide for perfect, even crusts
Raised edge trims crust as you roll the perfect circle
Non-stick surface allows easy transfer of rolled crusts to pan
Perfectly sized for a 9-inch pie
Additional Design inserts for crust decoration
Made from Platinum-Cured, Food-Grade Silicone
Non-Skid Surface
Rolls for easy storage
Available in 4 colors (blue, green, pink and yellow)
Dishwasher safe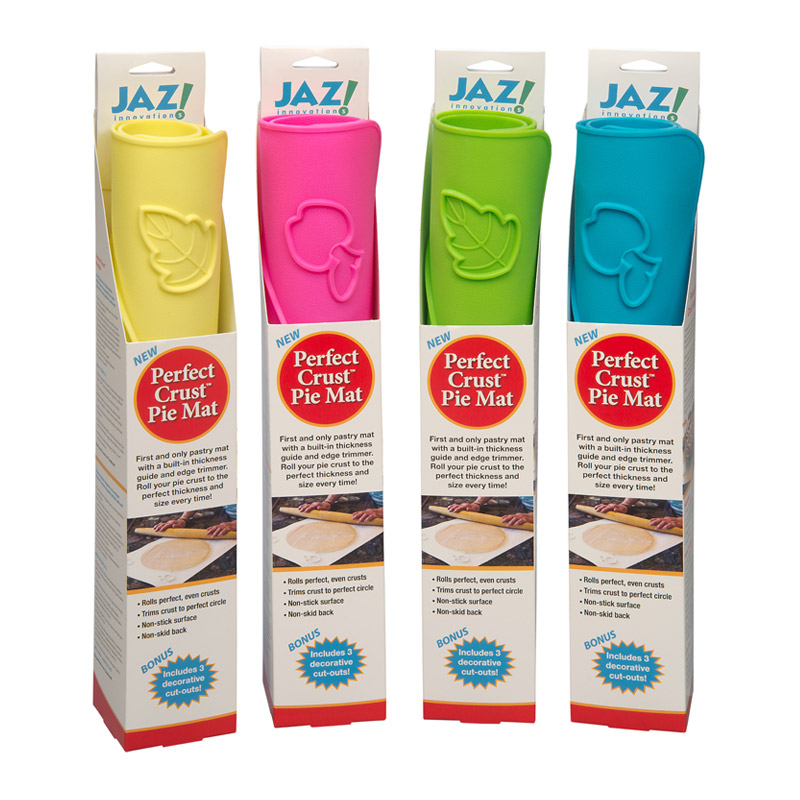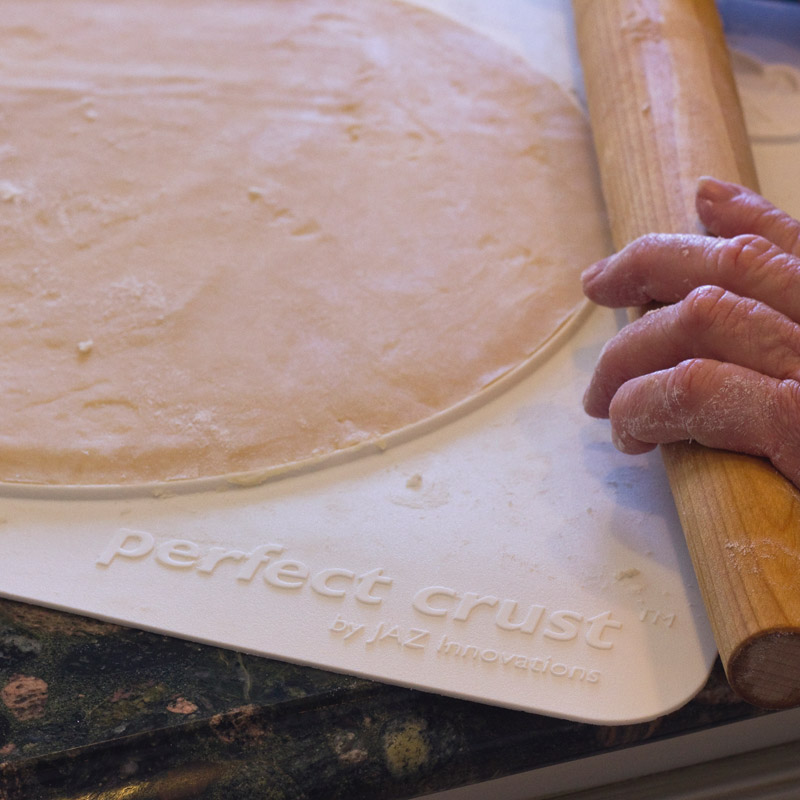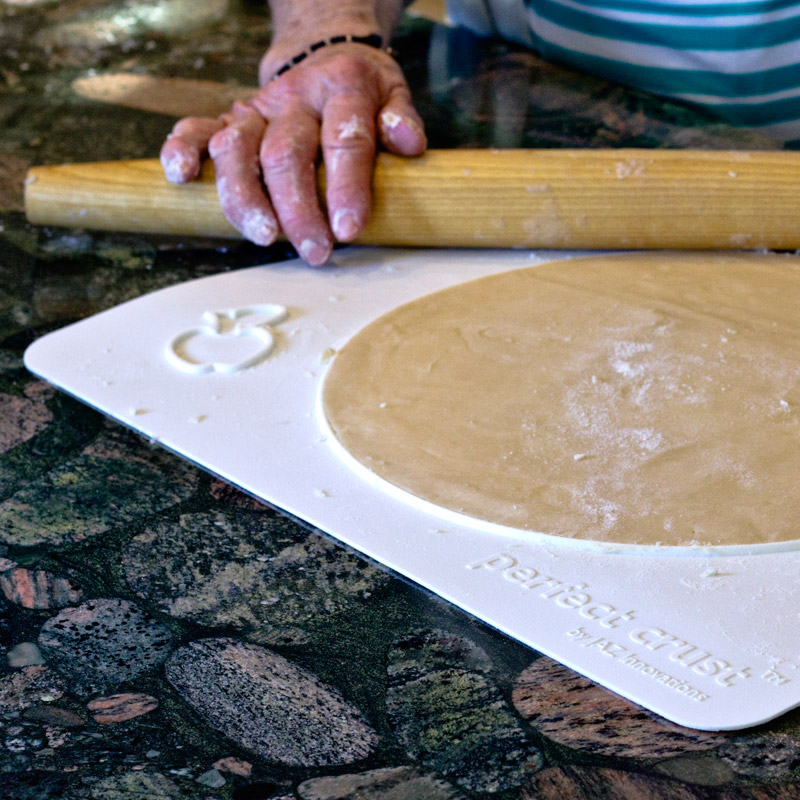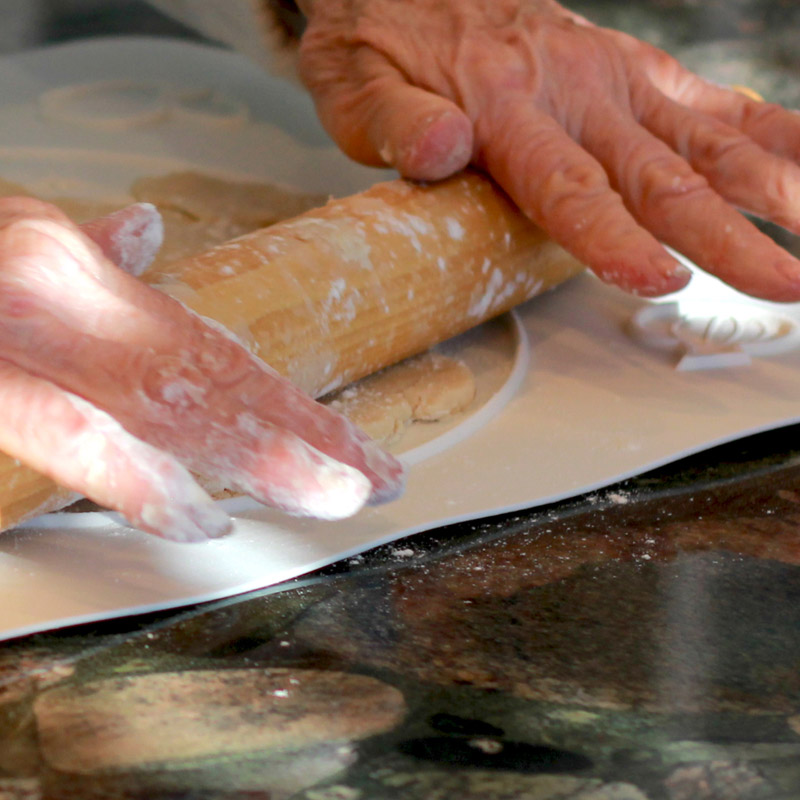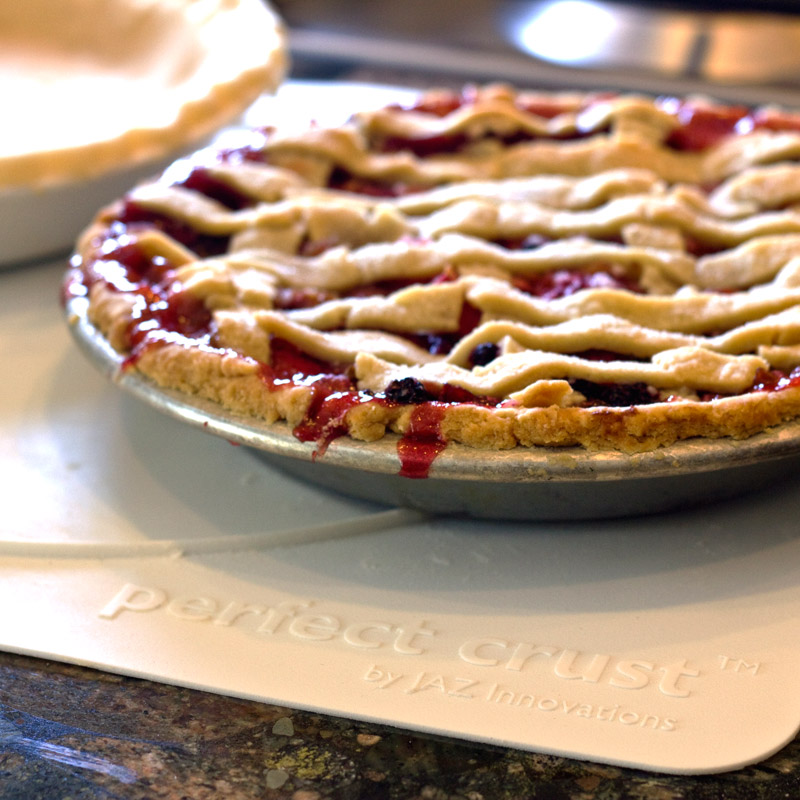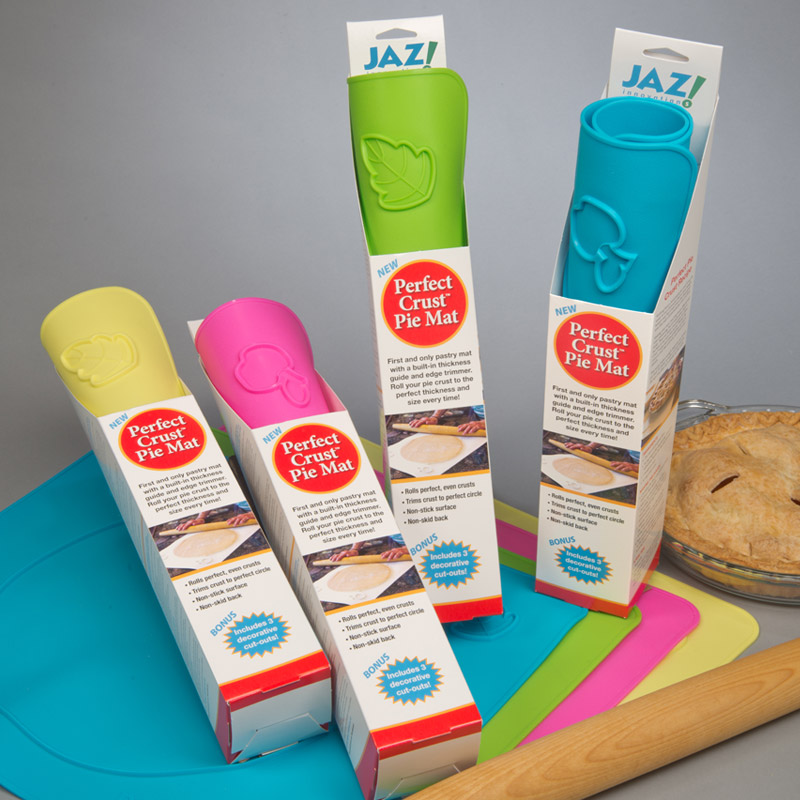 How To Make The Perfect Pie Crust
Generously flour the Perfect Crust™ Pie Mat to help keep the dough from sticking.
Place the pie dough in the center of the circle.
Roll the dough using a floured rolling pin making sure to alternate directions until pie fills the circle.
Remove any excess dough trimmed by the circle's edge.
Lift the Pie Mat over the pie pan and carefully transfer the pie crust to the pan by rolling the pie mat under to release the crust.
Clean the pie mat with soap and water.