---
Chicken Cacciatore – one of the all-time favorite and well-known Italian dishes! The Italian word, "cacciatore" means hunter or tracker and the origin of this widely popular Italian cuisine dates back to the Middle Ages.  As the name implies, it's believed that it originated as a hunt for game on the estates of the aristocracy and it was combined with whatever vegetables could be foraged on the property.
Chicken Cacciatore is usually prepared with base of ingredients including garlic, onions, and tomato but can also include bell peppers, wine, mushrooms and a variety of spiced, depending on the area. And the available ingredients can determine specifically how it's prepared. At the heart of the dish, regardless of the specific variation, is that the chicken is seared and then simmered in liquid.
This version of Chicken Cacciatore is the most common variation served in the United States and it is loaded with a variety of vegetables and spices that come together to create an amazing meal! You'll find this recipe easy to make and you're sure to love the results!
---
Ingredients
3 tablespoons olive oil, divided
6 boneless, skinless chicken thighs
¼ cup flour
Salt and pepper, to season
1 medium onion, thin sliced
1 tablespoon minced garlic
1 small red or yellow bell pepper, thin sliced
1 large carrot, peeled and sliced
8 oz mushrooms, sliced
1/2 cup pitted black olives (optional)
2 tablespoons each basil and parsley (freshly chopped or dried)
1 teaspoon dried oregano
½ cup red wine
14 oz crushed tomatoes
12 oz tomato sauce
1/2 teaspoon red pepper flakes (optional)
---
Directions
Dredge the chicken thighs with flour seasoned with salt and pepper, and set aside
Heat 2 tablespoons oil in a heavy cast-iron skillet. Sear chicken on both sides until golden, about 3-4 minutes on each side. Remove from skillet and set aside.
Add remaining oil to the pan. Sauté the onion until transparent, about 3-4 minutes.
Add in garlic and cook until fragrant, about 30 seconds.
Add the peppers, carrot, mushrooms and herbs; cook for 5 minutes until vegetables begin to soften.
Pour in the wine, scraping up browned bits from the bottom of the skillet. Cook until wine is reduced, about 2 minutes.
Add crushed tomatoes, tomato sauce, and chill flakes. Season with salt and pepper to your tastes.
Return chicken pieces to the skillet, cover with lid, reduce heat to low and allow to simmer (while stirring occasionally) for 40 minutes.
Add in the olives (if using) and allow to simmer for a further 10 minutes. Garnish with parsley and serve immediately.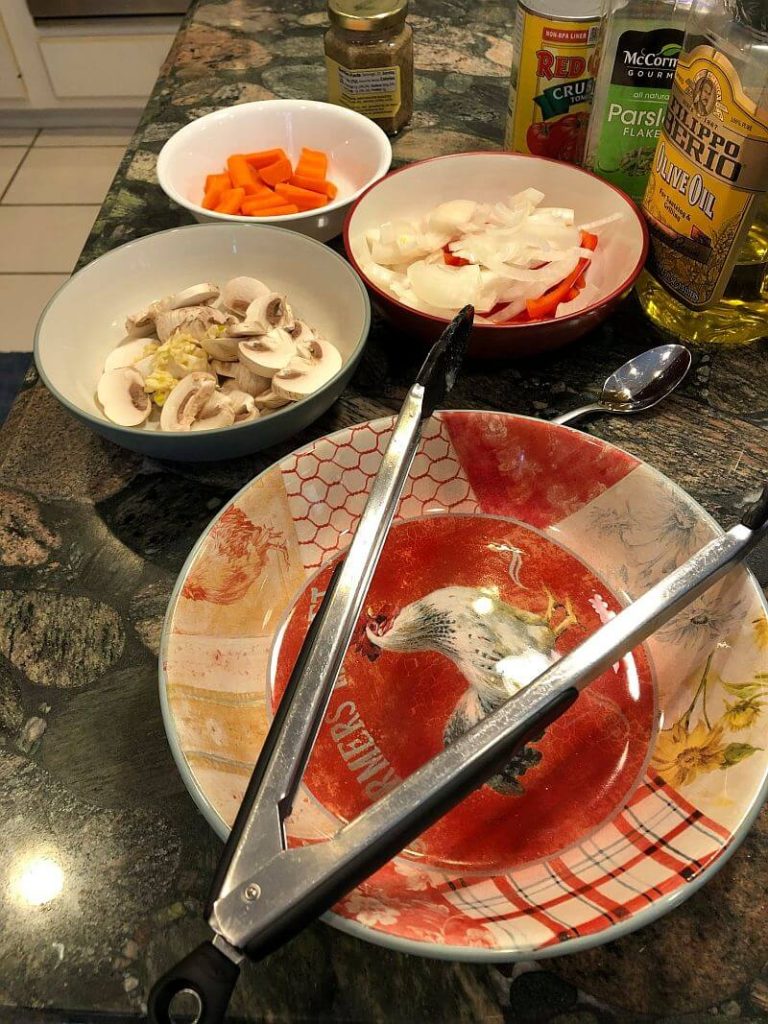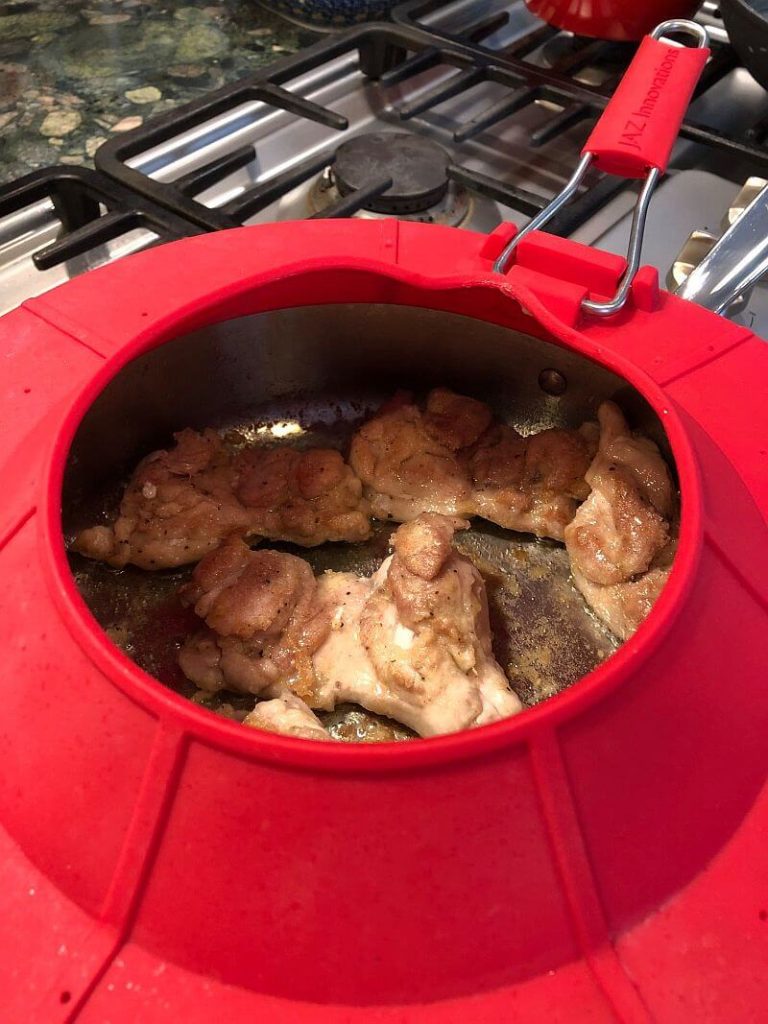 (adapted from https://cafedelites.com/chicken-cacciatore/)
Check out these Kitchen Tools and Gadgets by JAZ Innovations to make baking easier and more fun!
For protection against accidental oven burns – Oven Rack Guard® Burn Protection
To protect against burns from splattering grease – Splatter Guard Pro™
For the perfect pie crust (and for blind-baking!) – Perfect Crust Pie™ Weight Chain
To roll a perfect pie crust – Perfect Crust™ Pie Mat
To protect against burns from hot lids on pots – Cool Touch™ Lid Handle Covers
For precise kitchen ingredient measuring that's easy & fast – Perfect Measure™ Measuring Cups
Save money by preserving your produce the natural way – Guard/N Fresh™ Produce Saver